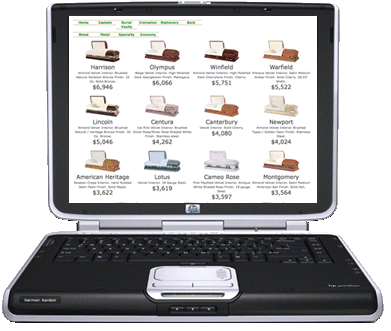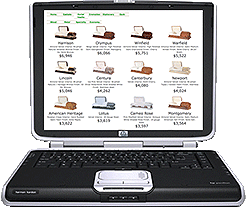 FuneralKiosk is quality merchandising. But what if you need to do the same level of quality presentation at a family's home? Simple, just bring the FuneralKiosk with you!
Our software will run on any laptop and you don't need an internet connection. Don't drag multiple catalogs around with you, searching for the products you want to show. All the merchandise you carry can be in one place in the FuneralKiosk. Even more importantly it's arranged the way you want to show it.
Because of the flexibility of the software, you can customize the kiosk to arrange products to truly merchandise. You know better than anyone the community you serve.
Many of our customers run the FuneralKiosk on a laptop and then plug the laptop into a dock at their funeral home for display on a wide screen monitor. You can do this too.
Increased revenue, generate operating efficiency, and impress the families you serve with a modern easy to use tool for making funeral arrangements. FuneralKiosk
See how we got started in About Us.