The WebKiosk is a new way to get all the advantages of the FuneralKiosk software through your web site. Show your products, regardless of manufacturer, and keep people on your site the whole time they're browsing.
The WebKiosk has an intuitive, easy to use interface so families can navigate through your products with ease. Because you customize the kiosk to your funeral home you'll be presenting high quality images of the full breadth of the merchandise you have available. This tool gives families the ability to complete arrangements remotely from anywhere in the world.
We integrate with any web site and will work with your web provider. Integration is included in the set up fee. If you do not have a web site, we can provide an inexpensive simple site.
This puts the power of FuneralKiosk software into your web site. Our customers love the WebKiosk. Hear what they have to say and see their WebKiosks. We put merchandising flexibility in your hands.
---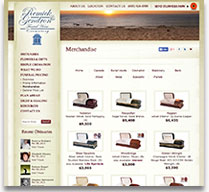 "The WebKiosk gives us the opportunity to show a variety of manufactures products right on our own web site without linking to each manufactures individual web sites. As an independent funeral home it keeps us even more independent giving our families many choices".

Jack Gendron, Remick & Gendron Funeral Home-Crematory, Inc., Hampton, NH
---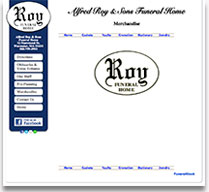 "FuneralKiosk has heightened the comfort level for the families we serve at Alfred Roy & Sons Funeral Home by easing their ability to make arrangements. Rather than fumbling through multiple books and pictures, FuneralKiosk has made us available to show all of the funeral home's products at once, leading to more merchandise sales. Allowing families to preview all the merchandise in a comfortable setting has lessened the need for viewing inventory. This, in turn, has helped to lower our overhead costs. In the case of an out of town death, this program has been especially beneficial. Families no longer have to wait to begin the planning process; they can have the preparations in order by the time they arrive. Also, we have appreciated the simplicity of making changes in merchandise by logging into the user friendly FuneralKiosk web site."

Michael Marchand, Alfred Roy & Sons Funeral Home, Inc., Worcester, MA