Every second more people connect to the Internet. It is quickly becoming the primary vehicle the consumer is using to shop and choose products. The Internet has proven to be a valuable medium for presenting high quality information in a short period of time. It has become the standard way people research anything.
There is no better way to show the progressive, customer-service oriented attitude of your funeral home than your very own web site. FuneralKiosk, Inc. can get you on the fast-track to the Internet with our "QuickWeb Package". FuneralKiosk, Inc. will register your domain name, gather your information and graphics and design a web site you'll be proud to announce.
Some of the benefits of the "QuickWeb Package" include:
Presence on the web! Giving people the ability to find you on the web through proper keywording so that all search engines have you high on the list of funeral homes in your area.


Time savings! Providing families and friends directions to you through your site.


Lasting Memories! The ability to post obituaries and then receive electronic condolensces from family and friends. All viewable though your web site.


Community connection! Provide links to local florists or other businesses who are relevant to your business.
The features of the "QuickWeb Package" include:
Seven total pages with information about your home, directions connected to your choice of internet map provider (google, mapquest, yahoo, etc.), your current and recent services and helpful family information for local hotels, florists and more. In addition we include an interactive pre-need and general information form to generate leads for your funeral home.


Updateable interfaces for obituaries. Obituaries and messages of condolence are all done through your site, with the powerful system from CurrentObituary.Net. Searchable, Automatically Archived Obituaries allow you to display current services while keeping all previous services available as well. These put you in control and allow you to make easy, secure updates to your own obituaries!


Easy, all-inclusive pricing that takes you from start to finish with no hidden costs. Set up of the site is $400 and hosting is $49.95/month. That's it. Hosting includes 24/7 monitoring, technical support, e-mail support, obituary database support, daily backup, redundant power backup and detailed wed statistics. We will also register your domain for a ten year period for $100.-


When people search for you on the web you will be found! We don't just do search engine submission. Our sites are all keyworded with the most popular funeral related keywords. The metatags we place make your site search engine optimized.


Although our "QuickWeb Package" includes everything a funeral director needs to get their business on line, we also offer additional items that can enhance your site. Please ask and we'll quote on additional features. From a news blog to showcasing any feature you desire, we can help you add any additional feature you are interested in.
Here are examples of the web sites FuneralKiosk, Inc. has already developed.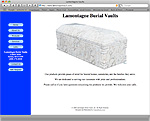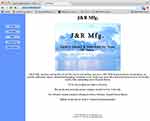 Our Funeral Home web site package is everything your business needs to be effective and useful for getting your customers to find you on the web and get valuable information once they find you. It offers not only a way for your business to provide customers with useful tools like funeral planning, but it also provides a means to help integrate your funeral home into the community or communities you serve. This coupled with our other valuable products FuneralKiosk and WebKiosk really differentiate you from the competition.